The graphs indicate the source of complaints about the bank of America and the amount of time it takes to have the complaints resolved.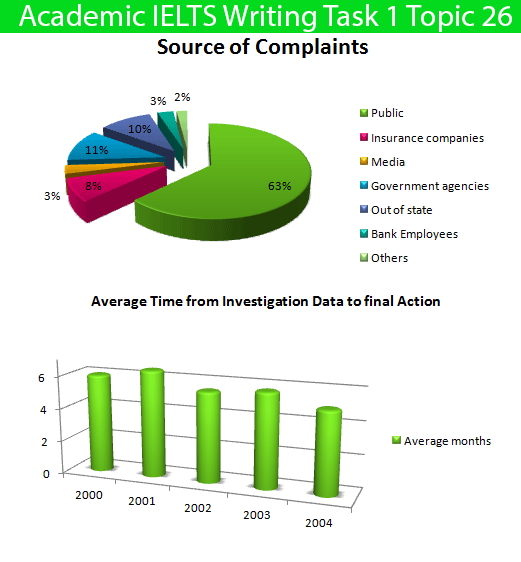 The pie chart illustrates the complaints about the bank of America in a variety of sources, while the bar chart depicts the average time complaints taken from Investigation Data to final Action.
Overall, the highest of complaints against the bank of America originated from Public. The bar chart shows the average time in period of around 5 years between Investigation and Action.
As can seen from the pie chart, 63 per cent of all complaints came from Public, which took approximately six time than Government agencies and Out of state sections. Interestinly, the percentage of Media and Bank employees figured equally, 3 per cent in the chart.
As regard to the bar chart, average time complaints in 2000 just under 6 months but peaked at 6 months in 2001. Those complaints, however, not only slightly fell and fluctuated arround 5.5 months in the next two years but also continously decreased just over 4 months by 2004.