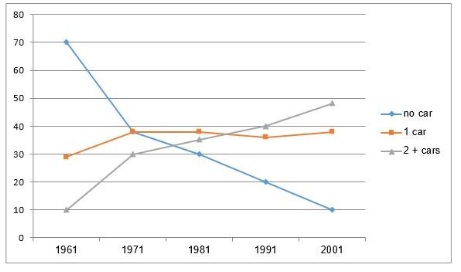 The line graph provides data regarding the car ownership in households in the UK over a period from 1961 to 2001.

Overall, it can be noticed that cars have become prevalent among British families over the 40-year period.

What stands out from the chart is that at the beginning of the term the majority of households did not own a vehicle, that is 70 per cent. Since then, the figure began to decrease noticeably. This means that after declining by half between 1961 and 1971, the percentage continued to go down until it reached its bottom in 2001 with 10 per cent.

In comparison, the percentage of households with 1 and 2 or more cars has increased. The former has seen a slightly positive trend from roughly 30 per cent in 1961 to barely 40 per cent in 2001. The latter, however, started at the lowest figure, 7 times lower than for the families with no vehicles, namely 10 per cent. This was followed by a surge to 30 per cent in 1971 and a steady growth until the end of the period. The ownership of 2 or more cars ended up as the most popular trend in 2001.